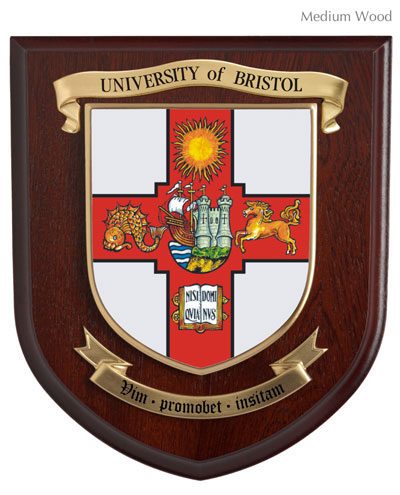 Universities
Heraldic Shields/Wall Plaques are very popular within Universities and are seen as a perfect solution when it comes to Presentations, Awards, Promotions, Trophies, Gifts, mementos etc, displaying the university coat of arms/crest in a most professional and attractive way.
Heraldic Shields/Wall Plaques are mainly used in universities as a way of offering students, or ex-students, the chance to purchase a gift/memento of the university in which they carried out their studies.

Many universities also have a sports department which can include Rugby Clubs, Football Clubs, and Cricket Clubs etc. Heraldic Shields/Wall Plaques are very popular in this area and are used as Trophies and Awards, which can be presented to teams or individuals etc.
The alumni and the student's union departments in universities are both common areas we supply Heraldic Shields/Wall Plaques to on a regular basis.

As manufacturers and suppliers of distinctive Heraldic Shields/Wall Plaques for over 14 years we have dealt with many universities from around the world.

Free Colour Visual
A computerised colour visual is available free of charge upon receipt of good quality artwork/copy supplied by the client. This is an exact replica of what will be received upon order showing the full Heraldic Shield/Wall Plaque, scrolls and club badge/logo or coat of arms etc in full colour.

For easy to follow steps on how to proceed with your enquiry please click here.